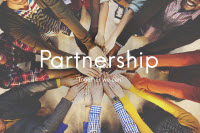 When you're starting a business partnership, one of the most important documents you should have is a partnership agreement. A partnership agreement is a contract that establishes what your and your business partner's responsibilities, financial stakes, and general roles are in the business. While a partnership agreement is extremely important, many people who are just starting a business decide to use a partnership agreement template they find online. This DIY approach to drafting such an important document increases the likelihood of a partnership dispute arising and could jeopardize your business' long-term survival.
Why use a template?
Simply put, the main--and usually only--reason anybody opts for a DIY partnership agreement is because they are worried that getting a properly drafted agreement with the help of an attorney will be too expensive. In other cases, the partners may claim that they simply trust and respect each other too much to ever have a dispute about a business matter, thus they may doubt the need for a properly drafted agreement.
What are the risks?
The potential consequences of a DIY partnership agreement are almost too numerous to mention. A vaguely worded agreement, for example, could inadvertently give one partner a larger stake in the business and/or its assets than the other partner intended.
DIY agreements also tend to fall short when it comes to clearly delineating each partner's financial obligations to the company. For example, a partnership agreement should spell out clearly how much capital each partner is contributing, what their share in the company is, and what their roles are in the company.
Additionally, far too many partners overlook what happens if one partner withdraws. In that case, what buyout scheme is in place? What sort of severance or benefits package is the departing partner entitled to?
Another problem that arises with DIY partnership agreements is that many agreement templates fail to take into account state and regional variations in the law. A template that works well for a business in California will not necessarily work well in Pennsylvania.
Above all else, a partnership agreement that is drafted by a qualified attorney offers clarity and peace of mind. Instead of getting bogged down in a dispute consisting of "he said/she said" arguments, a well-drafted agreement helps ensure that the responsibilities of each partner are clearly laid out early on.
For those who do find themselves in the midst of a partnership dispute, the team at Weisberg Law can help. Our attorneys have years of experience helping businesses resolve disputes. By contacting us today, we will get to work to advocate for your interests during what can often feel like a challenging time.